OUR HISTORY
From Rockland, WI to West Salem Cabinets
In 1987, Jerry and Donna Beyer began Beyer Cabinets from their garage in Rockland, WI. The focus for the business at the time was custom furniture pieces. As the business grew beyond the garage, a shop was purchased in Rockland.
In 1991, the company relocated to West Salem, WI continuing their 
wood and millwork operations. The shop area in West Salem was twice the size of the Rockland shop. In 1998, a second building was added, once again more than doubling the existing shop space. In 2004, both buildings were expanded, creating a new finishing facility as well as increased machining capabilities. This last expansion brought Beyer Cabinets to over 20,000 square feet. Over the years, state-
of-
the-
art computerized equipment has been added allowing for increased production and efficiency. Service, Quality, and Stability sets 
Beyer Cabinets
 apart from the competition.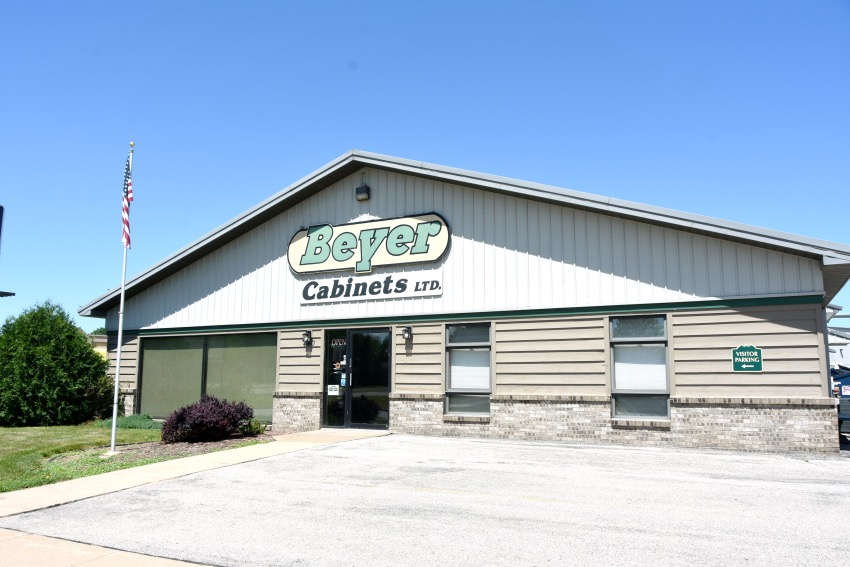 In March of 2016, Jerry and Donna passed the ownership down to their daughter Ronda and son-in-law Rod Young. Rod and Ronda are proud to continue the customer service and quality of products that have built the business. Beyer Cabinets has a great designing team, custom builders and installers. If you can Dream it, We can Build it.
We listen to our customers' needs and expectations to ensure that they are 100% satisfied. We accomplish this by providing the highest quality products, in a timely manner, at a price that meets their budget. Above all, we treat our customers with courtesy and respect; creating a source of pride and financial security for employees and owners alike!
If you haven't noticed by now we take great pride in our work. No matter how big or small the project, we will provide you with the same quality and service that one would expect. Here is what some of our past customers have said about Beyer Cabinets.
Thank you! Excellent work start-to-finish. It's been a pleasure working with Beyer Cabinets!
Robin is the best! She listened to me and gave me everything I wanted & needed. The installers were great too! Everyone was so nice and truly cared about the customer.
As always…our experience with Beyer's has been excellent. Kelly was easy to work with & the product is beautiful as always! Wonderful follow through as well. It is clear that you care about your product & your customers.
High quality for a good price. Excellent people at all levels. Would highly recommend.
The expertise of the designer (Robin) & installer (Hunter) was outstanding & very confidence-inspiring. Really appreciated their insights & suggestions without dominating our design ideas. They took our vision & enhanced it. Very down-to-earth, excellent communication skills & easy to work with. Quality cabinets at a reasonable price.
Kelly Kostner was simply fantastic to work with. Her professionalism and guidance & suggestions were very helpful in making my kitchen design to be just perfect for me. Nothing but good things to say from start to finish!!
So happy I chose Beyer Cabinets to transform my kitchen. All involved with my project were awesome to work with. Thank you!
Our cabinets are beautiful. They look so nice, rich & elegant. They are made very well. We let everyone know that we are so happy with the results & they should consider Beyer's for their next remodel. Robin gave us some very good ideas & it made it an easier job to pick out our final choices.
Kelly Kostner was professional & very skilled at taking our ideas & turning them into reality. She had ideas that we had not even considered that greatly enhanced the project. Installation team was professional & very skilled.